Note: The 2010 T-shirts ($8) and program booklets ($1) are still available for purchase. Let us know if you are interested in getting either of these. Get yours while there are still some left!
The Eighth Annual Henry Reed Memorial Fiddlers Convention was held in Glen Lyn, VA on June 11-12, 2010. This festival honors the life and music of local old-time fiddler Henry Reed.
WNRV was on-site for the entire event and over the course of the weekend brought you 11 hours of live music broadcast from the festival. We had a great time (even with all the rain on Saturday) and appreciated all the people who stopped by to say hello.
Friday's activities began at 5 PM and featured these bands: The Reed Family Band, Frank George and Friends, The Thumbdingers (2009 Old-time band winner), and Canyon River Bluegrass (2009 Bluegrass band winner). We broadcast 5 hours live on Friday so you did not miss a minute of these featured bands.
On Saturday we broadcast 6 hours of the Individual instrument and band competitions, including the awards presentation ($2000 in cash and ribbons as prizes). The competitions included: Bluegrass and Old-time Fiddle, Bluegrass and Old-time Guitar, Bluegrass and Old-time Mandolin, Bluegrass Banjo, Clawhammer Banjo, Old-time Fingerstyle Banjo, Harmonica, Dobro, Folk Song, Banjo-Fiddle Duet, Bass, Autoharp, Dance, Youth, Bluegrass and Old-time Bands. The winners are listed below.
Alan Jabbour also conducted a 2-day fiddle workshop from 10-12 on Friday and Saturday morning.
More information is available on the festival flyer.
WNRV partnered with the Henry Reed festival to offer a special combined advertising deal in May 2010. New WNRV customers that also took a full-page advertisement in the official Henry Reed festival booklet received a discount rate for their WNRV advertising. Contact WNRV to get details on how we can help you promote your group or business while supporting the local community.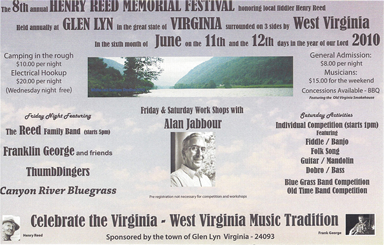 Congratulations to all the 2010 Winners!
Old-Time Fiddle
1 – Kirk Sutphin
2 – Mary Jane Epps
3 – Betty Vornbrock
4 – Rich Cogswell
5- Rebecca Campbell
Old-Time Banjo
1 – Andy Sayers
2 – Gary Holmgren
3 – Hubie King
4 – Tom Deceasar
5 – Nathan Bowles
Old-Time Guitar
1 – Clay Ferguson
2 – Tom Wright
3 – Billy Cornette
4 – Tina Liza Jones
Old-Time Mandolin
1 – Roy Clark, Jr
2 – Susan Mitterstark
3 – Dennis Markin
4 – Charlie Ferguson
5 – Greg Honeycutt
Bluegrass Banjo
1 – Rita Thweatt
2 – Adrian Sheets
3 – Timmy Mills
4 – Lane Robertson
5 – Marc Maynard
Bluegrass Guitar
1 – Cody Atkins
2 – Timmy Mills
3 – Jared Sweet
4 – Tyler Jones
5 – Ted McAliister
Bluegrass Fiddle
1 – Rebecca Campbell
2 – Caleb McAllister
3 – Nikki Wright
Harmonica
1 – Eddie Ogle
2 – Alabama Frank
Autoharp
1 – Glenna Anderson
2 – Ed Anderson
Bluegrass Mandolin
1 – Matt Hiser
2 – Ethan Taylor
Bass
1 – Clay Ferguson
2 – Jamie Collins
3 – Charlotte Whitesell
Dobro
1 – Alabama Frank
2 – Mike Hankins
Folk Song
1 – Glenna Anderson
2 – Jamie Collins
3 – Eric Whitesell
4 – Tina Liza Jones
5 – Burt Mittersark
Dance
1 – Kathleen O'Connell
2 – Ginger Willoby
3 – Joyce Sweet
4 – Danny Willoby
5 – Dan Westlake
Youth Dance
1 – Marshall Willoby
2 – CJ Ferguson
3 – Zack Willoby
4 – Cierra Hilton
5 – HM Mandy
5 – Lacy Wright
Banjo-Fiddle Duet
1 – Betty Vornbrock-Diane Jones
2 – Jeff Getz-Bruce Jacobs
3 – Sara Swain- Mary Jane Epps
4 – Carl Baron-Bob Gaffe
5 – Tina Liza Jones-Eric Root