The Twelfth Annual Henry Reed Memorial Fiddlers Convention was held at the Newport Recreation Center in Newport, VA on June 13-14, 2014. This festival honors the life and music of local old-time fiddler Henry Reed and is proud to have grown into it's twelfth year! The Henry Reed Memorial Fiddlers Convention is an official Crooked Road Affiliated Festival.
Update: The list of winners has been added below! Thanks to all that participated.
Friday's activities began at 5 PM. The Reed Family Band with Alan Jabbour kicked things off and then there were 2 sets each from both the featured bluegrass (Jason Harris & Friends) and old-time bands (Indian Run Stringband). Friday night was topped off with a square dance 10-11 PM. Individual and band competitions were held 1-10 PM on Saturday. Alan Jabbour offered a 2-day fiddle workshop from 10-12 on Friday and Saturday morning.
WNRV was on-site to cover all the hours of great live music from the festival on both days.
Early bird camping was open at 6 PM on Wednesday, and camping is free on Wednesday night. For Thursday-Saturday night camping is $10 per person per night (rough) and $15 per person per night (electric, limited number available).
More information on the festival is available at the Henry Reed Convention Facebook page. Contact us if you have any questions about the festival.
Congratulations to all the 2014 Winners and thanks to all that participated!
Old-Time Fiddle
1. Paul Yeaton
2. Betty Vornbrock
3. Tessa Dillon
4. Carl Baron
5. Lewis Pritchard
Old-Time Banjo
1. Nathan Bowles
2. Larry Unger
3. Chip Arnold
4. Russ Boyd
5. Carl Baron
Old-Time Guitar
1. Timmy Mills
2. Larry Unger
3. Tom Wright
4. Billy Cornette
5. Liam Kelly
Mandolin*
1. Jason Robertson
2. Honey Brassfield
3. Matt Stacey
4. Jake Maynard
Banjo-Fiddle Duet
1. Annie Stroud/Jake Maynard
2. Tessa Dillon/Liam Kelly
3. Steve Kruger/Nathan Bowles
4. Tom DeCeasar/Mindy DeCeasar
5. Lieselotte Heil/Teri Hayes
Bluegrass Banjo
1. Timmy Mills
2. Mike Mullins
3. Lane Robertson
4. Corey Wood
Bluegrass Guitar
1. Jason Robertson
2. Josh Raines
3. Brandon Hilton
4. Ronnie Toney
Bluegrass Fiddle
1. Rebekah Campbell
2. Ben Silcox
3. Honey Brassfield
4. Lane Robertson
Folk Song
1. Steve Kruger
2. Matt Stacey
3. Jamie Stacey
4. Lieselotte Heil
5. Josh Raines
Dulcimer
1. Matt Peyton
2. David Parks
3. Tim Thorton
Bass
1. Jamie Stacey
Dance*
1. Judy Atkinson
Bluegrass Band
1. Bear Spring Connection
2. Bad Ridge
3. Pilot Mountain Grass
Old-time Band
1. Little Stoney Nighthawks
2. The Jugbusters
3. Reed Island Rounders
4. The Slacktone Strings
5. The Scratch Band
* Old-time and bluegrass mandolin were combined this year, as were adult and youth dance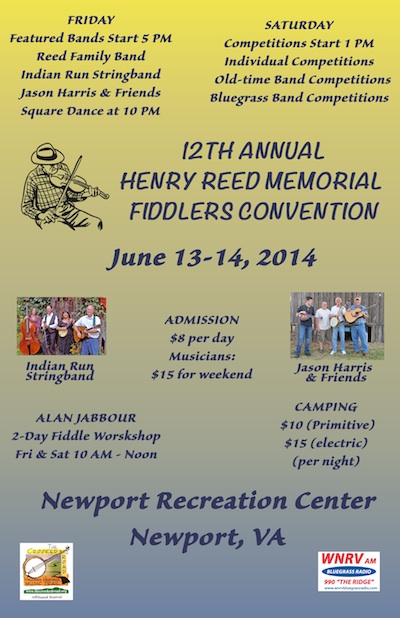 WNRV partnered with the Henry Reed festival again in 2014 to offer a special combined advertising deal. New WNRV customers that took a full-page advertisement in the official Henry Reed festival booklet may be eligible for a discount for their WNRV advertising. Contact WNRV to get details on how we can help you promote your group or business while supporting the local community.
Here is information for the Eighth, Ninth, Tenth, and Eleventh Annual Henry Reed Memorial Fiddlers Convention. A few T-shirts and program booklets from previous years are still available for purchase. Let us know if you are interested in getting these great souvenirs from previous years. Get yours while there are still some left!